Image Essay by Susan Denniston
Reconstruct|Reconsider
---
Artist's Statement
I live near the ocean and a concrete seawall. I have worked with seawall imagery for several years and wanted to create my own 36 Views at the Seawall, referencing 36 Views of Mount Fuji, the series of woodblock prints by the Japanese artist Hokusai (1760-1849).
Watching the destruction and repair of seawalls over the past several years has compelled us to reconsider our response to a rising tide and damaging storms. We ask if and how we are to rebuild.
With this in mind, I undertook 36 Views at the Seawall, hoping that the content and meaning of the work would inform the process I used to create it. I began by reconsidering old prints and went on to destroy (cut up) and rebuild (collage) them. I also created new prints to align with old fragments—to generate new images reflecting a new reality.
The final images are my "combines" of old prints, new prints, and timeless concerns. They reflect many printmaking methods: monotype, monoprint, drypoint, preliminary states of etchings, paper lithography, and more.
The individual prints are hung from delicate Asian scrolls that echo the Japanese origin of 36 Views of Mount Fuji—and the curl of breaking waves.
---
Art Information:
Susan Denniston's February 2012 image essay in Talking Writing, "At the Seawall," includes some of the prints that she used to construct the new series shown here.
"Suruga Satta no kaijō" ("Sea at Satta in Suruga Province"), from Thirty-Six Views of Mount Fuji by Katsushika Hokusai; Library of Congress Prints and Photographs Division.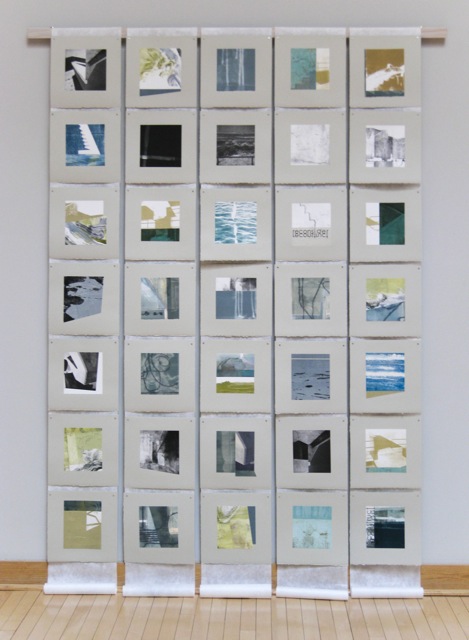 ---
Susan Denniston is a printmaker and painter who lives in Scituate, Massachusetts. She studied at the School of the Museum of Fine Arts in Boston, the Fine Arts Work Center in Provincetown, and Studio Camnitzer in Italy. Susan was a recent Visiting Artist at Wheaton College and was invited by the Attleboro Arts Museum to exhibit in the 2012 show 8 Visions. Her prints and paintings are regularly included in regional and national exhibitions at museums and galleries and have received numerous awards.
A juried artist member of the Boston Printmakers, the Cambridge Art Association, and the South Shore Art Center, Susan served as president of the Monotype Guild of New England from 2008 to 2010 and currently serves as treasurer for the Boston Printmakers. More of her work can be viewed at Susan Denniston's website.
36 Views at the Seawall: Reconstruct|Reconsider was created during a 2012 residency at the EES Arts print studio. Mark Pascale, curator of prints and drawings at the Art Institute of Chicago, selected the work for a national exhibit of monotypes and monoprints held this year at the Barrington Center for the Arts. The work received a juror's award of merit.
---